Silos
VAL-CO® Bulk Storage Bins are the ideal structure to protect feed from weather.
The weather tight die formed roof has reinforcing ribs at the seams for added strength and ease of assembly. The 22 inch diameter, warp resistant top lid closes tight to keep out moisture. Bin bolts have a built-in weather seal and a drip edge keeps water away from the taper hopper and unloading boot.
VAL-CO bins really perform with a 60 degree taper hopper on the 6 and 9 ft. bins and 67 degree on the 7 ft. bin. The tapers are offset to allow smooth feed flow and the top lid operates smoothly with either the chain or the pinch-lock opener.
VAL-CO bins are tough! Bin sheets are made of heavy gauge G-90 galvanized steel with 2-2/3" wide by 1/2" deep corrugation. Legs are die formed with a sturdy bracing system for structural support. High strength bolts are used throughout VAL-CO bins.
Build a Complete Feeding System
VAL-CO® offers a wide variety of components lets you build a feeding system to meet your exact requirements.
Flexible Auger
Flexible Auger for Low Volume, Standard Volume, High Volume, as well as high Moisture (up to 25°) and pellet applications.
Feed Bins
Our bulk storage bins offer you the most efficient way to manage and protect your feed. Built with heavy gauge galvanized steel, VAL-CO Feed Bins are made to last.
Hoppers
Solid heavy gauge steel construction provides durability. Make sure your birds get the feed they need, with the assistance of VAL-CO hoppers.
Sentinel Feed Scale
The Sentinel Feed Scale from VAL-CO is a precision feed weighing system that allows growers to accurately monitor feed consumption and precisely manage their
feeding program.
Contact your local VAL-COTM representative or distributor for more information on this and other fine quality products.
Your World Is Now Full of Options.
The FUZETM ProLine Feeding System from VAL-CO® offers you the ability to do something you've never been able to do before... build your own feeding system. Features for all FUZE ProLine Feeding Systems:
• Three large feed windows for automatic and even pan flooding with feed.
• Grill and pan form a large feed saving lip to minimize feed spillage and waste.
• Accurate feed level adjustments are quickly made from outside the pan.
• Deep center feeding "V" bottom nestles down into the litter to promote easier chick access when brooding and overall feed savings.
• Increased material thickness added to the pans in the "scratch" areas to improve pan life.
• Anti-rake fins reduce billing and feed wastage.
• Constructed with engineered polymer resins to resist wear and reduce the harboring of bacteria.
• Two-piece top for ease of installation/replacement.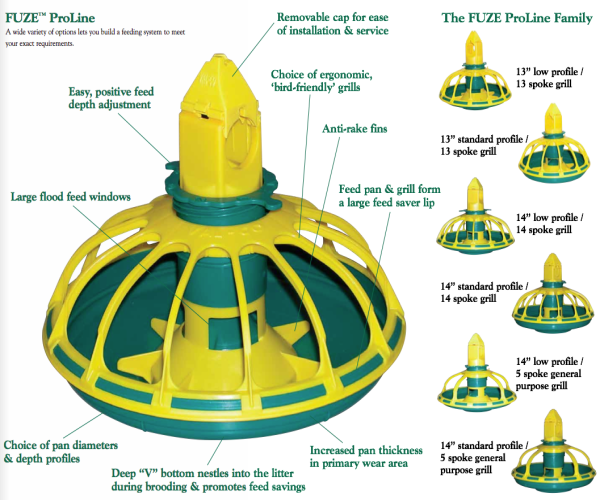 The new FUZE ProLine
The new Fuze ProLine allows you to mix & match interchangeable components to "custom build" the feeder that is right for your particular live production needs.
• Choice of pan diameters: 13 or 14 inch diameters.
• Choice of pan depth: shallow depth (2.4 in/61mm) or standard depth (3.0in/76mm)
• Choice of grill configurations: 13 spoke grills for 13 inch pans, and 14 spoke grills for 14 inch pans. Additionally there is a 5 spoke general purpose grill available for the 14 inch pans.
• All grills are designed to provide generous spacing for today's breeds of birds; and easy in and out of the pan for brooding chicks.
• Grills are designed to virtually eliminate trapping of chicks in the pan.
The VAL-CO Family of products provides all your equipment needs.
• Watering Systems
• Feed Bins, Fill Systems
• Feeders
• Nests
• Egg Collection Systems
• Cage Equipment
• Brooders & Heaters
• Evaporative Cooling
• Fans & Other Ventilation
• Whole House Controllers TM
• Flooring
• Incinerators
• Alarms